CHBA NATIONAL AWARDS FOR HOUSING EXCELLENCE FINALIST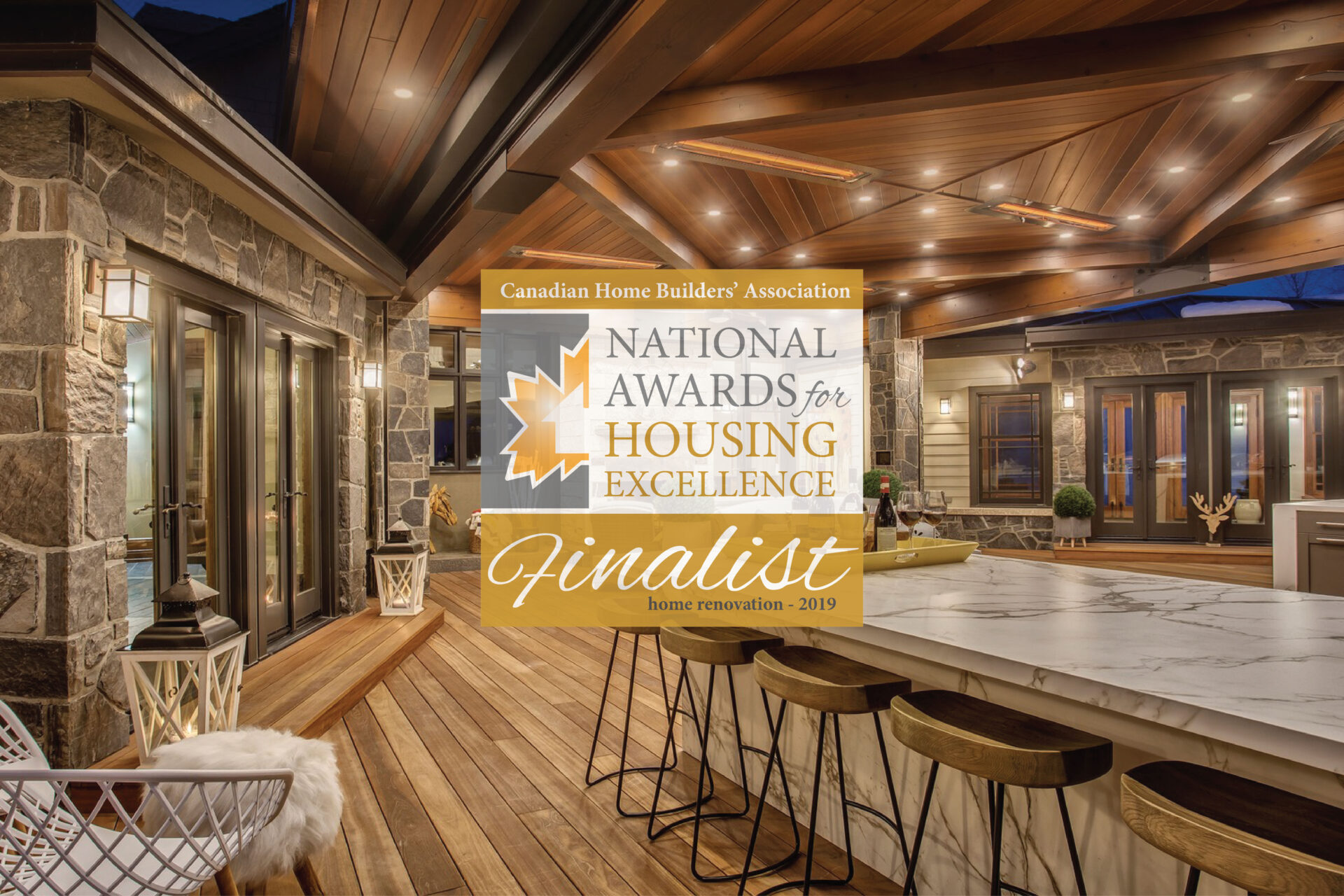 We are very pleased to announce that Diamond Valley Custom Homes has been named a Finalist for the 2019 CHBA National Awards for Housing Excellence. Our "Rocky Mountain Oasis" home is a perfect reflection of our company's commitment to truly custom and innovative design.
Recognizing the best in Canadian new homes, home renovations, community development and marketing, projects are submitted to The Canadian Home Builders' Association (CHBA) from small towns and large urban centres all across the country. Competition was strong again this year with over 700 entries from coast to coast. This year's judges remarked on the quality of projects and the difficulty it took to narrow down the top entries, so we are very honored!
"Our categories reflect the incredible housing diversity in Canada: low-rise houses, high-rise apartments, and homes built for ownership or rental purposes. These finalists showcase the incredible innovation and creative design involved in building and renovating homes for a variety of price points," said CHBA CEO Kevin Lee.
With over 700 entries submitted by CHBA members from coast to coast again this year, the competition was fierce. Nearly 200 judges shared the challenge of reviewing each entry over several weeks and narrowing down the field. A select panel of judges convened in Ottawa to review finalists and select the winning entries.
"Feedback from judges was that the caliber of entries this year was especially high. Each judge brings unique skills sets and experience to the selection process. This year the competition increased its focus on the context of the project – who was the home or community built for? Why was the home renovated? So our judges really had to consider how well the project's desired outcomes were met. The finalist this year truly represent the best in Canada," said Lee.
The forty CHBA National Awards for Housing Excellence will be presented at the Association's 76th National Conference on May 10th in Niagara Falls, Ontario. Categories include:
New Home Awards (14 in total)
Net Zero Home Award (1 award)
Modular Innovation Award (1 award)
Home Renovation Awards (11 in total)
Marketing Awards (10 in total)
Community Development Awards (1 award)
Two major national awards, one for Marketing Excellence and one for Design Excellence, will also be presented to the home builder who has achieved the highest level of success in the marketing and new homes categories respectively.
A complete listing by category of all the CHBA National Awards for Housing Excellence finalists can be found here.
About the Canadian Home Builders' Association
The Canadian Home Builders' Association (CHBA) is the voice of the residential construction industry in Canada, representing more than 8,500 member firms across the country. The membership spans new home builders, renovators, developers, trade contractors, building material manufacturers and suppliers, lenders, and other professionals in the housing sector.