DESIGNING YOUR DREAM KITCHEN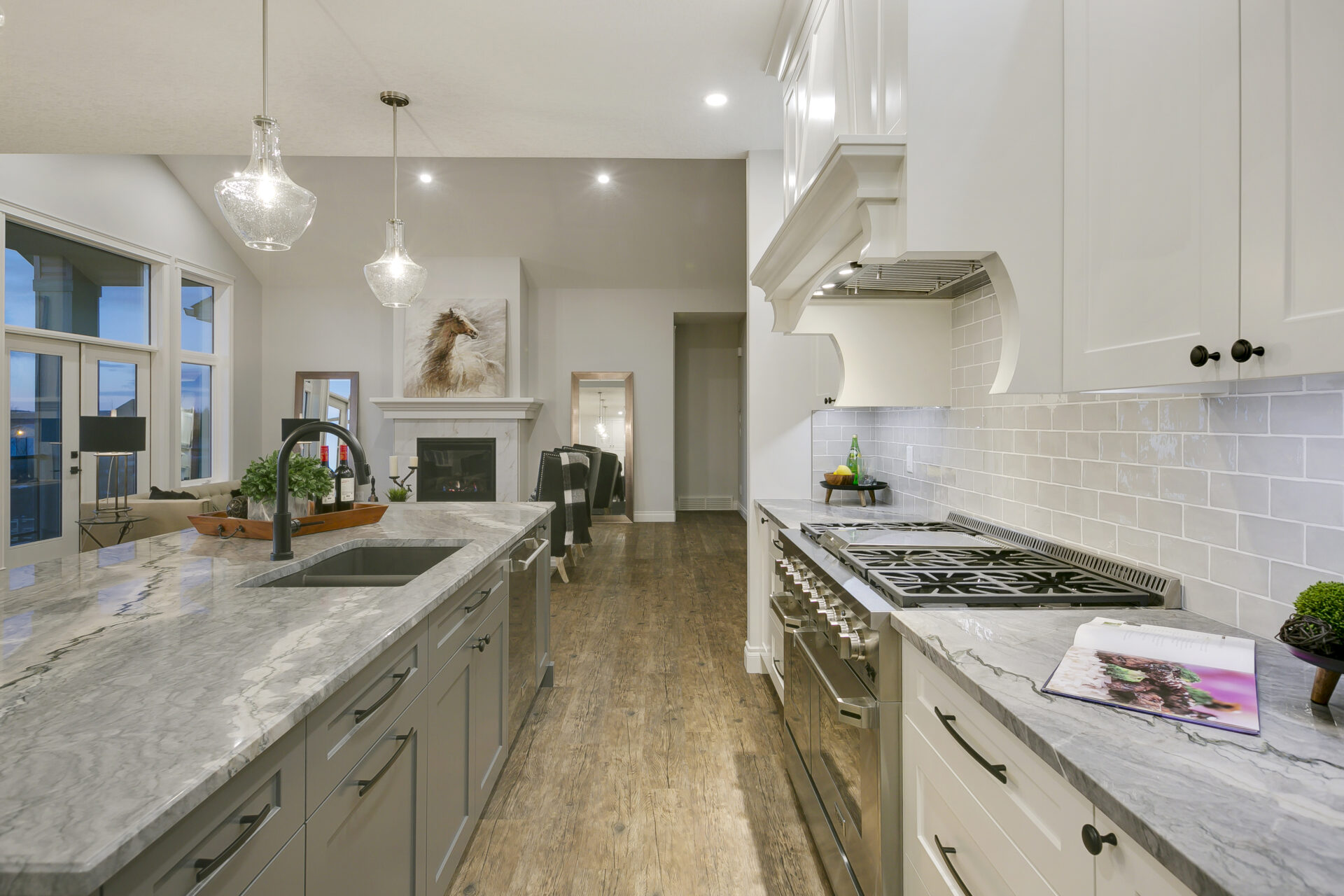 You simply cannot build an incredible home without having built an incredible kitchen! A kitchen is often the hub of your home. Where you sneak to for a late night snack, where you eat dinner and converse with your family after a long day! So what are some of the important elements to look at when building your dream kitchen? We dive into them below!
Cabinetry:
The cabinets are the bulk of your kitchen. They are what you will see every time you walk into the kitchen. Cabinets need to be both practical and aesthetically pleasing. The type of home you are building will influence the type of cabinetry. Is the home a rustic, rich or modern? The price of the cabinetry can also vary. Is the cabinetry custom made? What material is it made from? The price can differ greatly per sq ft depending on the materials chosen.
Counters:
And what would the kitchen be without a great counter surface to compliment them? There are a ton of options when choosing the correct counter service for your new kitchen. Marble, granite, and quartz can vary greatly in price. Will the counters have a back splash? This can really finish the kitchen counters but will obviously affect the overall price.
Appliances:
The cost of the appliances can range from $10,000 to $100,000. With many top brands and styles to choose from this can be a daunting task to make! GE, LG and Samsung all make great products but our personal favorite is Miele.
There are many different style options to choose from. White, Slate, Black and Stainless steel being the most popular. Stainless steel has become extremely popular replacing white as the most commonly selected finish as it basically goes with everything. Newer to the market is slate which is being called the New Stainless steel. It matches a large number of kitchen styles but not as many as stainless steel. It is low light reflecting and is neutral in colour which is the reason it fits so many different styles. Black looks great but is not for all styles of kitchen. It does not blend in as well as the other two but can still look stunning when used in the right design. White looks great in an all white kitchen! It looks classic and creates a ton of light. They also do not have any issue with fingerprints. We love the aesthetically pleasing look of built-in panel ready appliances that match and blend right in with your cabinets. It all comes down to personal preference and the style of kitchen.
Serving and Storage:
A kitchen island can be functional and practical. It can increase the storage space in your new kitchen. You can have seating to create a great little breakfast nook for you and the family to eat at every morning. Will you require a pantry? Storage is very important when planning out the kitchen as it's all very well having an aesthetically pleasing kitchen but useless if it is not practical in everyday function.
Light:
Another important factor when building your kitchen is light. This can greatly decide the style of kitchen you choose. If there is not much light coming into the kitchen then a dark kitchen with dark cabinets and appliances might not be a good idea. If you have had your home custom built then placement of the kitchen and windows is an important factor to consider.